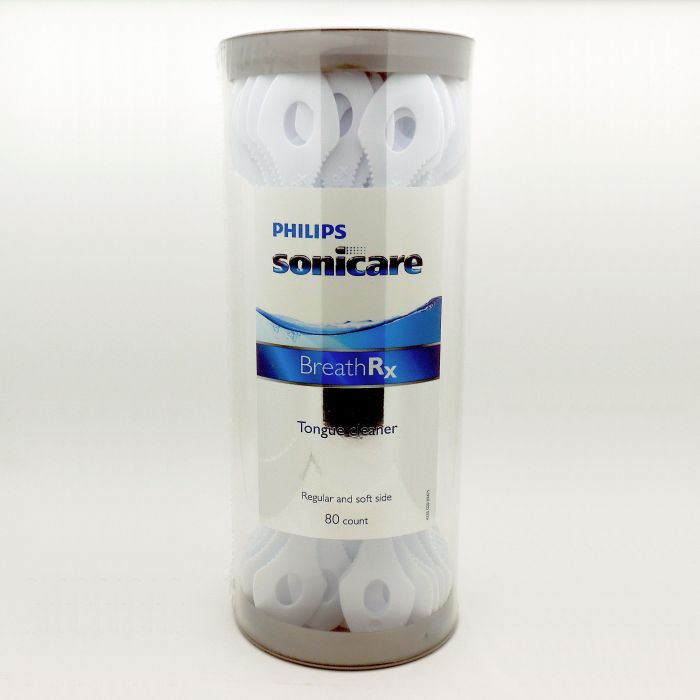 Philips Sonicare BreathRx Tongue Cleaner
---
In stock, ready to ship

Inventory on the way
A cleaner tongue for fresher breath. The lightweight and flexible Philips Sonicare BreathRx tongue cleaners gently remove odor-causing bacteria build-up from the tongue.
80 tongue cleaners
Two cleaning sides
Deep clean
Sensitive tongues
Part of the #2 recommended breath care system.
Up to 80% of bad breath comes from odor-causing bacteria that hides in the uneven surface of the tongue. The flexible BreathRx tongue cleaner gently removes bacteria build-up from the tongue. For optimal results use together with BreathRx tongue spray
Soft and regular side
Two cleaning sides for a customizable cleaning experience. Choose Regular for a deep clean or Soft for sensitive tongues.
What do I get?
80 Tongue Cleaners
How do I use it?
Don't just mask odors, eliminate them in 3 easy steps - brush, scrape, rinse.
Step 1: Brush away odor-causing plaque with BreathRx Whitening toothpaste.
Step 2: Get to the bacteria that hides within the uneven surface of your tongue with the BreathRx tongue spray and tongue cleaner. The active ingredient in the spray kills bad breath bacteria on contact and neutralizes odors. The flexible tongue cleaner gently removes bacteria build-up from the tongue.
Step 3: Rinse away the remaining germs and debris with the BreathRx antibacterial mouth rinse.
Let us and our customers know about your experience with BreathRx Tongue Scrapers by writing a product review.
Exp. Date
Jan 31, 2021