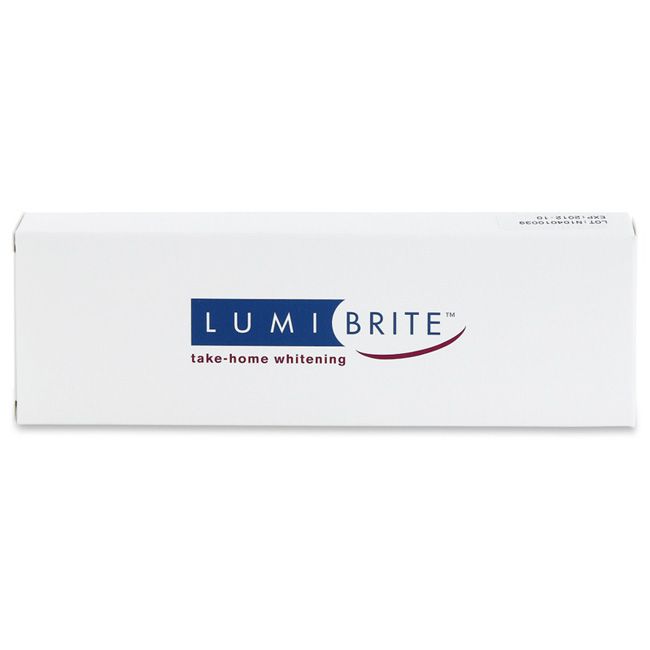 Lumibrite 32% Teeth Whitening Gel
---
In stock, ready to ship

Inventory on the way
Lumibrite 32 is a fast and effective way to whiten your teeth at home. This is the same professional-grade whitening system that you get from your dentist, but the lower price gives you even more to smile about. Simply use the product syringes with your dental trays to get brighter teeth in two weeks or less.
32% carbamide peroxide
Whiten in 10 to 15 minutes, twice a day
2 syringes = 6 dual-arch bleaching treatments
Lumibrite is an at-home tooth whitening system made by Den-Mat, a trusted manufacturer of dental products for more than 40 years. Lumibrite 32 is the strongest of three Lumibrite concentrations, so you can get a whiter smile in just 1 to 2 weeks with little to no sensitivity. In fact, Lumibrite 32 can whiten your teeth up to 9 shades!
What do I get?
Each package of Lumibrite 32 contains 2 syringes of whitening gel. Each syringe contains 2.5 ml of product. One syringe is good for 3 dual-arch whitening treatments.
Fast-acting Lumibrite 32 is used with your custom or boil-and-bite dental trays.
Floss and brush your teeth.
Load a thin line of Lumibrite 32 gel into each tray. Avoid overloading the trays.
Insert the trays into your mouth and press them lightly for good contact. Wipe away any excess gel that may ooze out.
Leave the trays in for 10 to 15 minutes.
Remove the trays.
Rinse your mouth with warm water and brush your teeth again.
Clean your trays with your toothbrush and cool, clear water.
Follow these steps for each treatment. You can use Lumibrite 32 twice daily for 14 days.
Be sure to store Lumibrite 32 in a cool, dark place at 75°F or below.
How does Lumibrite 32 work?
Lumibrite 32 contains 32% carbamide peroxide, one of the highest concentrations available in a take-home whitening system. Both carbamide peroxide and hydrogen peroxide work the same way: The peroxide breaks down and forms bubbles of oxygen that remove discolorations.
Is Lumibrite 32 safe?
Lumibrite 32 is safe and effective. It contains carbamide peroxide, an established bleaching agent. Carbamide peroxide is gentler than hydrogen peroxide, making Lumibrite safe for patients to use at home. Lumibrite is formulated to eliminate tooth sensitivity, so you won't have to trade comfort for a brighter smile.
To protect your gums and mouth, don't overload your trays. The teeth do not need to be completely coated with gel in order to whiten. You can rub petroleum jelly onto your lips and gums before each bleaching session to prevent irritation.
Whiten your teeth the fast and easy way with Lumibrite 32!
Tell us about your results by writing and posting a product review.