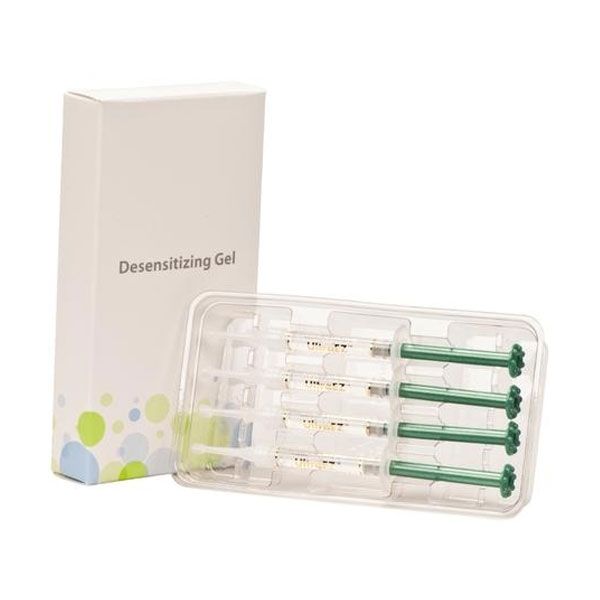 UltraEz Desensitizing Gel
---
In stock, ready to ship

Inventory on the way
When toothpastes for sensitive teeth aren't enough, turn to UltraEZ Desensitizing Gel. This award-winning gel contains two highly effective ingredients that block nerves to end tooth pain caused by sensitivity. Enjoy hot, cold, and sweet foods without discomfort.
Sustained-release formula with 3% potassium nitrate and 11% weight-by-weight fluoride ion
Both immediate and long-lasting relief in 15 to 60 minutes
Use before or after whitening, or for general tooth sensitivity

.
UltraEZ Desensitizing Gel is a professional-grade product that's indicated for the management of tooth sensitivity. UltraEZ combines two proven active ingredients for optimal protection. This viscous gel creates a film over the teeth, helping to block sensitive nerves from exposure to extreme temperature changes and sticky or sugary foods.
UltraEZ Desensitizing Gel makes bleaching procedures much more comfortable. You can use the gel before or after you whiten to reduce sensitivity caused by intensive bleaching agents.
What do I get?
You'll get 4 syringes of professional-grade desensitizing gel. The gel is intended for use with the custom trays that you get from your dentist for whitening procedures.
UltraEZ Desensitizing Gel is made by Ultradent Products, the same company that manufactures Opalescence whitening treatments.
How do I use UltraEZ Desensitizing Gel?
UltraEZ Desensitizing Gel is as easy to use as any whitening treatment. Use the gel with your custom dental trays.
Brush your teeth.
Open one syringe.
Express the contents of the syringe along the entire tray. If only one or two teeth are affected, you can add a drop of gel to that area of the tray. Be sure to load gel into each molar area as well so that the tray will stay in place.
Insert the loaded tray.
Press the front and back edges of the tray against your teeth for good contact.
Use a clean, dry toothbrush or your finger to wipe away any excess gel.
Time your treatment. The typical treatment time is 15 to 60 minutes.
Remove the tray and rinse your mouth. Do not swallow any gel.
Clean the tray with cool water and a soft-bristled toothbrush.
You can store UltraEZ Desensitizing Gel at room temperature, away from heat and sunlight.
How does UltraEZ Desensitizing Gel work?
A number of factors can lead to tooth sensitivity: overzealous brushing, receding gums, intensive bleaching treatments, and dental procedures such as scaling and root planing. These factors can expose dentin, a porous tooth tissue. Microscopic holes in the dentin, called tubules, lead to the nerve at the core of the tooth.
UltraEZ Desensitizing Gel helps to fill in these tubules, so cold, hot, and sugary foods are less likely to affect the nerve. Potassium nitrate (3%) and fluoride (11% weight by weight) are the key ingredients that work to block tubules and strengthen enamel. These minerals are absorbed into the teeth, creating a semi-permanent seal for long-lasting protection.
Is UltraEZ Desensitizing Gel safe?
UltraEZ Desensitizing Gel is not only safe, but it's actually good for your teeth. In addition to reducing sensitivity, this gel improves enamel hardness, which in turn prevents cavities.
Don't wear UltraEZ Desensitizing Gel overnight. Don't eat, drink, or use tobacco products while using this product. If you're pregnant, always consult your dentist or doctor before using UltraEZ Desensitizing Gel. Don't swallow any gel. Keep this product away from children.
Put an end to tooth sensitivity with UltraEZ Desensitizing Gel!
Have you gotten good results with this product? Please post a review of your experience.